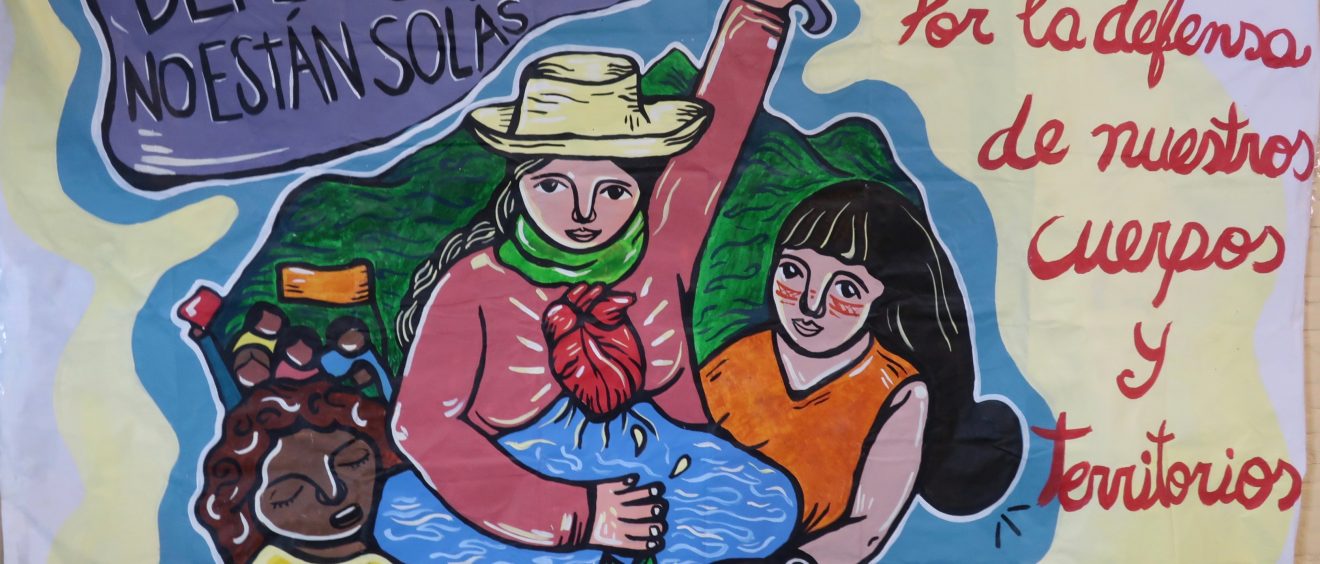 The Global Alliance for Green and Gender Action
Harnessing the power of the women's rights and environmental justice movements
It was minus 20 degrees Celsius when 2.000 women gathered at the main square of Ulaanbaatar, the capital of Mongolia. They had come out to voice their distress about the terrible smog in the city caused by three large power plants. The rather spontaneous demonstration, triggered by a concerned mother's Facebook message, was widely covered by national media. Soon after, some of the women were invited to speak about the problem of air pollution with the minister of environment.
Their young organisation is now being supported by MONES, a small grants fund for women's rights in Mongolia. MONES increasingly works together with another Both ENDS partner in Mongolia, OT Watch, which is an environmental NGO. It is because of the Global Alliance for Green and Gender Action, shorthand GAGGA, that the two organisations found each other and have joined hands.
JOINING FORCES REGIONALLY
2017 was the second year of GAGGA. Its goal is to harness the collective power of the women´s rights and environmental justice movements. These movements often work in silos, which is a missed opportunity because the issues they are concerned about are often closely interlinked. Joint strategizing and lobby can make each of them stronger.
In the past year, we made important strides in supporting environmental NGOs and funds to integrate women's rights issues into their work. And vice versa, to familiarise women's rights funds and CBOs with important perspectives from the environmental movement.
The regional meeting convened in Bolivia, for instance, triggered exactly the kind of mutual learning and cooperation that GAGGA aims to foster. Environmental and women's rights funds, NGOs, and community organisations from across South America came together.
They shared their concerns and decided that the water crisis on their continent – caused by climate change, the expansion of mining and industrial agriculture as well as by governance failures – was a priority issue that merited a joint campaign. Eight organisations then took the lead in writing a position paper. They managed to integrate perspectives from both angles and to come up with six shared messages for advocacy. And what's more, they identified a perfect timing for their campaign: the month of March during which both International Women's Day (March 8th) and World Water Day (March 22nd) are celebrated. In 2018, this new partnership will act together at the Alternative World Water Forum in Brazil. Without the convening role of GAGGA, the South American women's organisations would not have had the opportunity to share their priorities for tackling the water crisis at this important global event.
MUTUAL LEARNING
In December, we organised a two-day learning event in Amsterdam. Environmental NGOs and funds from Mongolia to Guatemala to Mozambique and the Philippines joined us for some 'shock therapy', as one of the participants reflected afterwards. Indeed, we have noticed in the past that talking about women's rights makes some of our partners feel uncomfortable. The environmental movement worldwide, after all, is still quite a male stronghold. We were therefore very pleased with the frank and inspired discussions during the event. The participants were eager to learn from each other's experiences and from our two strategic partners in GAGGA, both experts in women's rights, the Fondo Centro Americano de Mujeres (FCAM) from Nicaragua and Mama Cash. In 2018, we will continue to build together on the conviction that was once again reinforced in Amsterdam: by joining forces, environmental and women's rights groups can help realise a world where women exercise their rights to water, food security and a clean, healthy, and safe environment.