A Word from our Board and Director
The COVID-19 pandemic continued to pose significant challenges to our collective efforts, with partners, to advance environmental justice worldwide. Yet when we reflect on 2021, above all we are proud of what Both ENDS and our partners were able to accomplish in the face of a prolonged global crisis. We made support for our partners our top priority and adapted our plans accordingly, doing whatever we could to respond to their needs during this critical time.
Our experience over the past two years confirms the wisdom of our decentralised, flexible funding system, which enables the organisations we support to do what they need to do in the context of great uncertainty. Our ability to successfully navigate the crisis also showed the value of our open, transparent relationships with donors. It helped increase their broader appreciation for the way innovative, flexible funding systems work in practice.
A great example is the Autonomy and Resilience Fund, which we rapidly launched early in the pandemic with our partners in the Global Alliance for Green and Gender Action (GAGGA). In a matter of months, we were able to mobilise resources for women environmental defenders and their communities in 21 countries around the world. By documenting, learning and sharing our experience with this type of innovative finance, we were able to convince donors of its effectiveness. We are delighted that the GAGGA Alliance was recently awarded a special €1.3 million grant from the Dutch Postcode Lottery to support continuation of the Fund.
Danielle Hirsch, Director
Paul Engel, Chair of the Board
2021 at a glance
To achieve our vision of a sustainable, fair and inclusive world, Both ENDS works to empower civil society, to change the system so it prioritises people and the planet, and to support transformative practices. This annual report features some of our best stories from 2021, which together show the broad variety of our achievements along each one of the three pathways.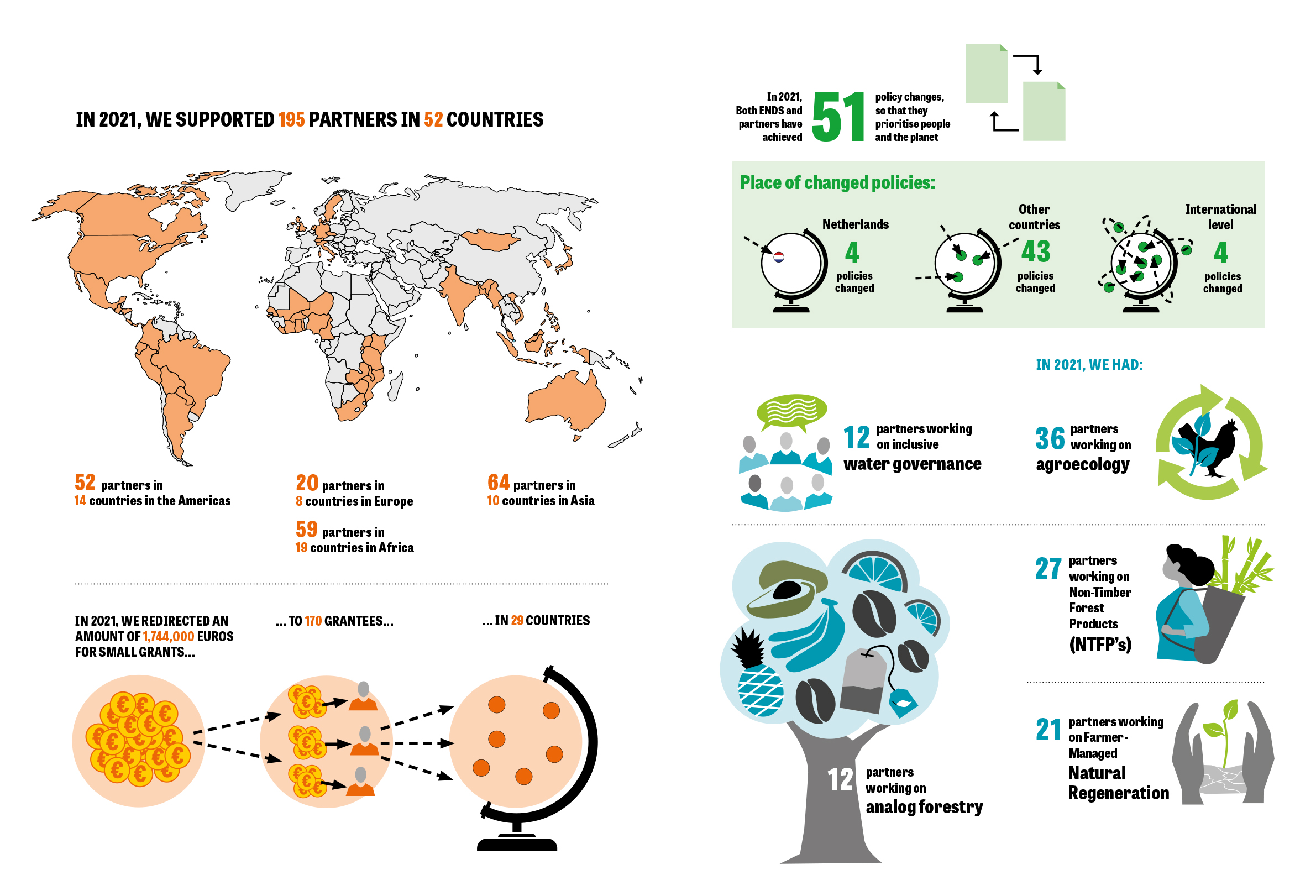 Fe y vida comité popular Brazil
Supporting civil society to work safely and freely
Both ENDS aims to ensure that civil society can work freely and safely to influence decision-making related to ecosystems, environmental justice and human rights. In many places around the world, the space for civil society organisations to operate is shrinking. Repression, harassment and violence against environmental human rights defenders – our partners among them – is on the rise. In 2021, Both ENDS supported many of them, and we selected a few examples for our Annual Report.
Fe y vida comité popular Brazil 2
A breakthrough in finance, a break with fossil fuels
Nurturing sustainable livelihoods and advancing climate and environmental justice requires nothing short of system change – a fundamental rethinking of the way the world does business, so that people and plant take priority over profits.
When local people have a decisive say in what happens in their community and to the environment around them, much good can be achieved. But when it comes to global finance, more often than not local communities are excluded from decision-making that profoundly affects them. Their voices are ignored, or worse, violently silenced.
Both ENDS works with partners worldwide to amplify the voices of communities that are experiencing first-hand the devastating social and environmental impacts of unsustainable financial policies and practices – from climate change to pollution to forced displacement.
A growing movement for agroecology
Human prosperity and healthy ecosystems go hand in hand. Across the globe, local communities are engaged in a variety of people- and planet-friendly practices, often building on knowledge that has been passed from generation to generation.
Together with partners, Both ENDS aims to upscale and mainstream the wide array of transformative practices that are advancing environmental, social and gender justice – everything from inclusive water governance to farmer-managed natural regeneration to analog forestry. We support partners to develop, strengthen and broaden successful practices by connecting practitioners, building evidence, and learning and communicating about what works best. We engage in joint advocacy and fundraising to expand policy space and financial support so that transformative practices become the new norm.
Download
Want to read our full Annual Report 2021 or print it? You can download the full PDF, including the annual accounts and the auditors statement, from the
Both ENDS website.