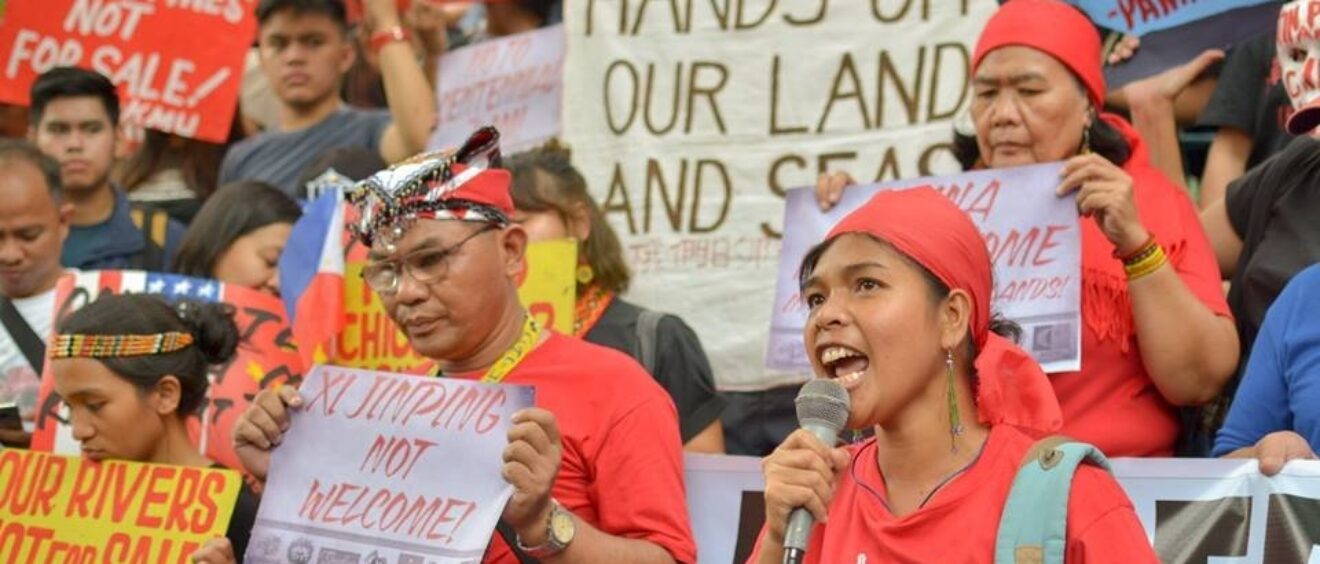 Supporting civil society to work freely and safely
Both ENDS aims to ensure that civil society can work freely and safely to influence decision-making related to ecosystems, environmental justice and human rights. In many places around the world, the space for civil society organisations to operate is shrinking. Repression, harassment and violence against environmental human rights defenders – our partners among them – is on the rise.
Learning from and mobilising resources for women and girl environmental defenders

In 2021, as part of the GAGGA Alliance, we developed our knowledge about the specific challenges and strategies of women and girl environmental defenders (WGEDs). WGEDs often play a leading role in efforts to protect land, territories, and natural resources, and to advance gender and climate justice. In February, in collaboration with LILAK, the Non-Timber Forest Products Exchange Programme, Keystone Foundation and Stockholm Environment Institute, we co-hosted a virtual roundtable on supporting Grassroots Women Environmental Human Rights Defenders. The event brought WGEDs from Asia together with international donor agencies, development organisations and others. The aim was to raise awareness about the strengths and challenges of grassroots women environmental human rights defenders and to explore possibilities for new funding, research and policy partnerships to support them in their struggles.
With support from the Ford Foundation, GAGGA commissioned in-depth research to learn more about how WGEDs understand and experience structural violence, their diverse strategies for dealing with it and what kind of support they want and need from donors. The research was designed to strengthen both our own efforts to support WGEDs and to influence other donors to do the same. Our findings confirmed the importance of providing accessible, flexible and longer-term financial support to WGEDs, addressing their digital and physical security needs, as well as providing support in the form of capacity building, advocacy and communications.
A key conclusion from the research, which was based on input from with 62 grassroots and regional organisations involved in GAGGA, was that the current level of support for WGEDs worldwide is seriously inadequate. Throughout 2021, Both ENDS and our GAGGA partners stepped up collective efforts to mobilise new resources for the vital work of WGEDs – with success. GAGGA's collaboration with the Ford Foundation led to a new three-year grant of USD $1 million dedicated to supporting (young) women, girl, trans, intersex and non-binary environmental defenders to respond to and resist structural violence, and contribute to the reduction of gender-based violence in the context of the defense of land, territory and the environment.
We also submitted a proposal – approved in 2022 – for a special grant from the Dutch Postcode Lottery to support continuation of GAGGA's Autonomy and Resilience Fund (ARF). Launched in response to the COVID-19 pandemic, the ARF was designed to support WGEDs with flexible funding to strengthen community-driven systems of resilience and autonomy. The small grant mechanism aims to support WGEDs and their communities to sustain themselves through short-term crises and increase their resilience into the future, in case of future crises.
Amplifying civil society voices to stop plans for the East African Crude Oil Pipeline
Alongside of mobilising resources, Both ENDS supports partners via networking and alliance-building, and by creating spaces for them to make their voices heard. In 2021, we continued to support the Ugandan-based Africa Institute for Energy Governance (AFIEGO) and Environment Governance Institute (EGI), long-term partners of Both ENDS, in their work alongside many local, national and international organisations to support communities affected by fossil fuel projects, such as the planned 1400 kilometre-long East African Crude Oil Pipeline (EACOP). A joint project of TotalEnergies and the national oil companies of China, Tanzania and Uganda, among others, EACOP would transport crude oil from the Albertine Graben region of western Uganda through Tanzania for export. Preparations for the project have already displaced several communities and many more would face the same fate. The project poses significant risks to water resources and wetlands, and is completely at odds with the need to not develop new fossil fuel projects to stay within the critical 1.5°C warming threshold.
Both ENDS has supported AFIEGO and EGI in their aim to communicate about alternatives to oil development. The groups – which also work to promote off-grid solar energy for rural communities, some 90% of whom have no access to electricity – have highlighted the fact that EACOP would not benefit locally affected communities in Uganda. In March Both ENDS helped focus investors' attention on the risks of EACOP, as well as effective alternatives to fossil fuel development. The webinar featured presentations by staff from AFIEGO, BankTrack and Reclaim Finance, and was attended by some 20 investors, including the asset manager of Dutch pension fund ABP, which has investments in TotalEnergies. The collective efforts of Both ENDS and allies worldwide have inspired some key investors to steer clear of the pipeline.
Risks to environmental defenders in Uganda
Meanwhile, harassment of communities and organisations opposing the EACOP has intensified. In August, the National NGO Bureau ordered 54 civil society organisations to halt operations, AFIEGO among them. In October, AFIEGO's offices were raided, as were the offices of other community-based organisations that are speaking out against EACOP. On several occasions, AFIEGO staff has been unlawfully arrested for speaking out against the pipeline.
In response to the increased repression, Both ENDS and the network members have called on governments and the EACOP companies to take action to ensure the safety of environmental human rights defenders. We reached out to the Dutch Embassy in Uganda to help strengthen support for the safety and work of AFIEGO and other environmental organisations in the country.
As we increasingly contend with risks and threats to our partners, we recognise the need to put in place a more systematic and proactive approach. In addition to mobilising resources for environmental defenders (see above), we aim to minimise risks to partners as well as strengthen and streamline our response in urgent situations. First steps in that direction include plans for training for partners in digital security and efforts to forge stronger connections with national and international organisations specialised in supporting the safety and security of rights defenders.
Women of Awoo Village in Karuma trying to remove some of the building materials from their huts as they are being evicted, Uganda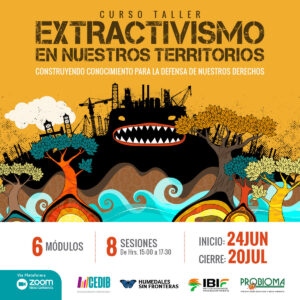 An announcement for a summer course about how to defend communities against extractivism, Bolivia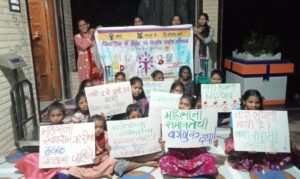 "Companies come to do mining and take our water, forest and land. This is also violence against women" – WHERD Jankabai along with women and children in campaign on issues faced by women – Panna, Madhya Pradesh, India