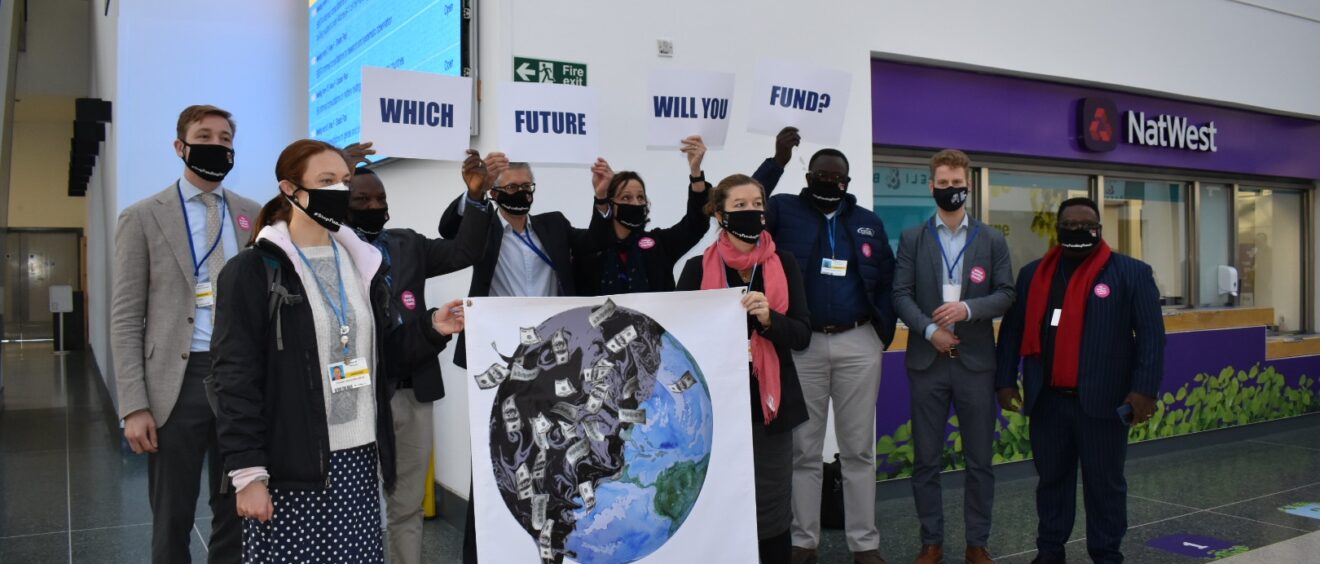 A breakthrough in finance, a break with fossil fuels
Nurturing sustainable livelihoods and advancing climate and environmental justice requires nothing short of system change – a fundamental rethinking of the way the world does business, so that people and plant take priority over profits.
When local people have a decisive say in what happens in their community and to the environment around them, much good can be achieved. But when it comes to global finance, more often than not local communities are excluded from decision-making that profoundly affects them. Their voices are ignored, or worse, violently silenced.
Both ENDS works with partners worldwide to amplify the voices of communities that are experiencing first-hand the devastating social and environmental impacts of unsustainable financial policies and practices – from climate change to pollution to forced displacement.
Billions in public money for fossil fuel projects
For more than two decades, we have worked to draw attention to an obscure, yet hugely influential type of financial institution: export credit agencies (ECAs). ECAs provide government-backed insurance or guarantees to domestic companies doing business internationally. As such, they are one of the largest sources of public financial support for projects in developing countries. Our analysis has shown that via their ECAs, governments support the fossil fuel sector with billions of dollars each year, in direct contradiction to globally-agreed climate and sustainable development goals. Not only is such support commonly associated with human rights violations, it locks in long-term dependence on fossil fuels at a time when investment in renewable energy is urgent.
In close collaboration with allies and partners from Mozambique, Ghana, Uganda and Togo, in 2021 Both ENDS stepped up the pressure on governments, including the Netherlands, to put an end to export credit support for fossil fuels. Sustained advocacy and outreach kept the issue on the agenda of the Dutch Parliament and in the media, and even informed negotiations for the new coalition government.
Beyond the Netherlands, we co-launched the website Fossil Free ECAs, which put a spotlight on the harmful impacts of ECA projects (see below) and made a clear case for urgent action by governments worldwide. We collectively reinforced our message throughout the year, including in a meeting at the OECD, which facilitates global rule-making for public ECAs.
A breakthrough at the UN climate conference
A critical juncture came in November at the UN climate conference (COP26) in Glasgow. In close collaboration with partners and allies, we kept the pressure on: concerted media outreach and a side event highlighted the local and global climate impacts of ECA policies, as well as other adverse environmental and social impacts. We demanded that governments follow the positive example of the UK, the US, Canada and others and decisively commit to aligning public finance to a 1.5°C warming limit and the goals of the Paris Agreement.
Our work paid off. By the end of the COP, 34 countries, including the Netherlands, and five international financial institutions signed a joint statement agreeing to end new, direct public support for the international unabated fossil fuel energy sector by the end of 2022 and to prioritise support towards a clean energy transition. The decision represents a major breakthrough, translating to some $24 billion of public finance that will now shift away from fossil fuels. What's more, the number of countries actively working together on how to implement the commitment – the Export Finance for Future (E3F) coalition – grew from seven to ten members.
Action needed now for communities in Mozambique
Both ENDS, together with Milieudefensie, SOMO and Friends of the Earth Europe, continued to maintain pressure on the Netherlands to act urgently, not only for the climate, but also to protect local communities, nature and the economy. We supported and echoed the demands of our Mozambique partners, calling on the Dutch government, the Dutch ECA (Atradius Dutch State Business) and others not to provide export support for a large liquid natural gas project in Cabo Delgado, in North Mozambique.
The gas project is connected to an escalation of violence in the region, where some 2,600 people have been killed and more than 700 thousand have fled. Among the refugees of a major attack in March 2021 were members of Both ENDS' long-term partner UPC, the Union of Peasants of Cabo Delgado. With financial support from Both ENDS, UPC was able to provide urgent humanitarian relief – kits of clothing and food – to the families of members displaced by the conflict.
Just a day after the attack in March, Atradius Dutch State Business (ADSB) agreed to insure the Dutch dredging company Van Oord for €900 million for its work on the Mozambique LNG project. Both ENDS joined our allies in condemning the decision and calling on ADSB to increase transparency about its decision-making process. Through a freedom of information request, we obtained documents that served as the basis for critical media coverage and questions in Parliament about ADSB's support for the project. In December, in response to the pressure, the Dutch State Secretary of Finance decided to commission independent research into ADSB's human rights due diligence process. We will continue to monitor the process.
A momentous decision by Dutch pension fund ABP
For years, Both ENDS has played a key role in the movement calling on Dutch pension fund ABP – the largest pension in Europe and the fifth largest in the world – to divest from fossil fuels. Our research has shown that ABP has some fifteen billion euros invested in fossil fuel projects that are causing severe social and environmental harm to local communities and contributing to dangerous climate change. Through advocacy and facilitation of dialogue between partners, investors and governments, we have reinforced the pension divestment campaigns of Fossielvrij NL, Groen Pensioen and allies across Europe and the world.
Finally, after seven years of unwavering pressure, we welcomed ABP's momentous decision, announced in October, to stop investing in oil, gas and coal producers and to sell off its current holdings by early 2023. As always, Both ENDS will keep a watchful eye on implementation of the policy.
Responsible divestment
As the movement for fossil fuel divestment continues to grow, we will also work to ensure that companies don't just divest, but divest responsibly. To that end, in light of Shell's plans to sell its onshore holdings in Nigeria (and focus on offshore), we facilitated a dialogue between our Nigerian partners, ABP (a Shell investor) and Shell Nigeria (SPDC), drawing attention to the need to address ongoing social and environmental problems linked to Shell's decades-long operations in the country.
Similarly, we supported our Panamanian partner Movimiento 10 de Abril (M10) in its negotiations with Dutch development bank FMO about its exit from the Barro Blanco dam project, which has been associated with major human rights and environmental violations. FMO is currently in the process of designing a responsible exit from the highly contested project.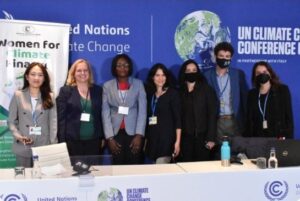 Both ENDS and partners at Climate
COP 26 in Glasgow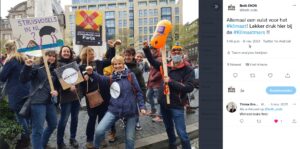 Tweet about the presence of Both ENDS and partners at the Climate March on the 6th of November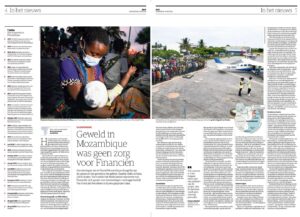 An article in Dutch newspaper NRC about the Dutch Ministry of Finance approving  an export credit insurance worth more than 900 million euro's to Dutch dredger Van Oord for taking part in the controversial TotalEnergy LNG project in the North of Mozambique.