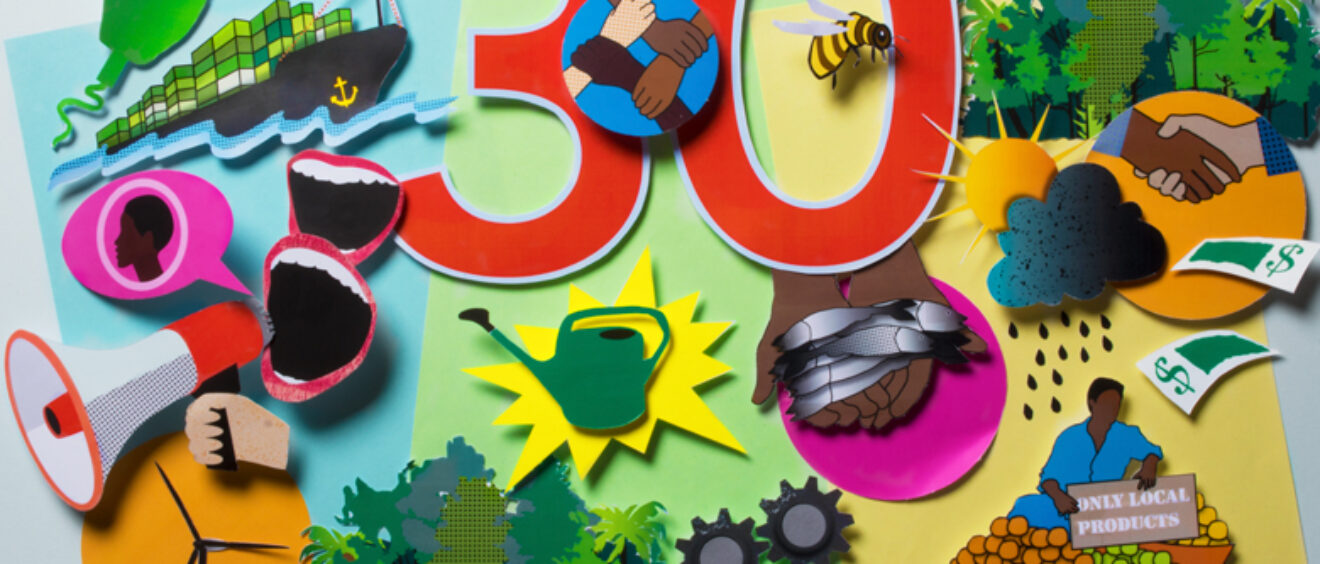 A word from our board and director
Both ENDS was pleased to celebrate its 30th anniversary in 2020. As we reflected back on the organisation's history, we were struck by the organisation's consistency. At the heart of Both ENDS, then and now, is our commitment to our partners, to connecting and collaborating with organisations and individuals around the world to realise our shared vision of a world where the environment is protected and human rights are respected.
It is this commitment that remains at the centre of our new five-year strategy 2020-2025. The new strategy, which was developed through a rich dialogue with our global network of partners, is organised around three strategic objectives, with activities geared to realising our ambitions and indicators to keep us on track. Next to a strong civil society that can make its voice heard and systemic change at all levels, the new strategy emphasises the importance of the many planet-friendly, gender-just and inclusive initiatives that our partners have developed with us. There are a whole range of examples, from inclusive water governance to the Non-Timber Forest Products Exchange Program. It is high time that these transformative initiatives receive the financial and policy support they deserve. They need to be scaled up and scaled out, to become the 'new normal'. Going forward, Both ENDS aims to give these practices more visibility and to explore innovative sources of finance for them. We want to identify investors who share our goals and understanding that environmental sustainability, human rights and gender justice are the starting point of transformative change.
The new strategy reflects the urgency of the multiple crises the world faces. It was in the works well before the COVID-19 pandemic laid bare the faults in the system. To those who did not already see it, the pandemic made clear what we have long known: the current model of trade and development is bankrupt. Global value chains do not give people security. Our current trade system causes extreme inequalities.
Both ENDS responded to the challenge of the pandemic in multiple ways. First and foremost, we focused on our partners and the communities with which they work. For them, the pandemic came on top of what were already difficult circumstances. We assured our partners of the flexibility of existing funding and freed up additional funding for them to deal with urgent issues. We also discussed with donors the need of environmental justice and women's organisations for sustained and flexible funding. Significantly, our partners didn't want to change what they were working on. They just wanted to be able to continue. So we at Both ENDS knew we also needed to persevere.
Both ENDS quickly shifted to remote working. In the midst of the lockdown, we managed to move to a new digital workspace which provides improved security in a context of increased risk for our partners worldwide. We also managed to move to a new physical office, a beautiful, historic building in Utrecht. The decision-making process behind the office move, which was coordinated by a team of Both ENDS staff, was a really successful proof of concept for Both ENDS's self-steering structure. We tried to adapt to the challenging work situation, to focus on what really matters and avoid overburdening each other.
We also responded to the crisis with analysis and recommendations for policymakers and donors. Among other things, we highlighted the effectiveness of small grants funds in ensuring that crisis funding actually reaches those in need. We also underscored the need to use public money to kick off a just transition by investing in green infrastructure.
2020 was an important year in terms of our two partnerships with the Ministry of Foreign Affairs, the Fair, Green and Global Alliance (FGG) and the Global Alliance for Green and Gender Action (GAGGA), both of which were renewed. The fact that the Ministry, for the first time ever, included trade as a topic within its civil society funding framework is a testament to the success of awareness-raising by FGG. And the fact that the GAGGA Alliance, which is led by a women's organisation, was moved from the gender department to the environmental department reflects the progress GAGGA has made in demonstrating that climate and gender justice are intertwined.
It is with great pride that we look back on 2020 and the response of Both ENDS to the challenges of COVID-19. We stood in solidarity, with purpose and flexibility, with our partners and with each other. Throughout the crisis, we were very clear that this was our priority. As we reflect back, we can say with confidence that what we do, we do well.
Danielle Hirsch, Director
Paul Engel, Chair of the Board