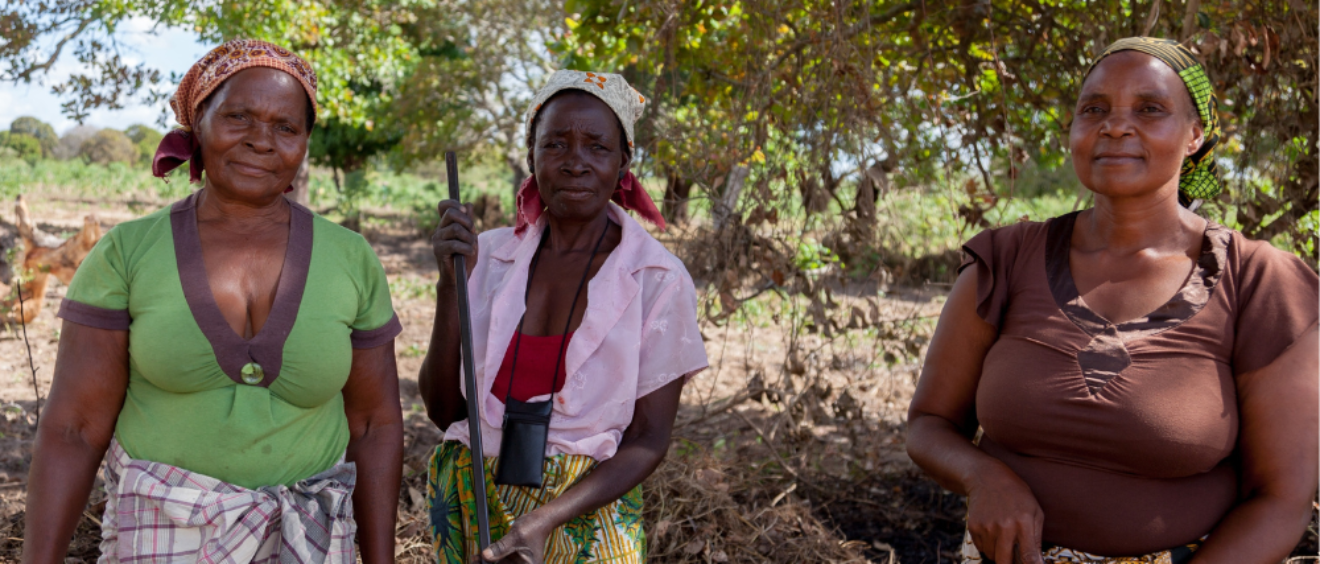 Women's land rights in Mozambique
For rural and peasant women in Mozambique, land is life. Land is crucial for women's livelihoods, their health and well-being. Land nourishes bodies and spirits. The Mozambique Constitution, National Land Policy and Land Law affirm the rights of all Mozambican people to the use and enjoyment of land, and recognise land as a universal means of wealth creation and social welfare. In practice, however, many regulations and procedures discriminate against women. Despite being the country's largest producers of the food that sustains Mozambican families, few women can rest assured that their right to use and enjoy land is guaranteed.
Fortunately, a network of Mozambican women's rights organisations, Forum Mulher, is gaining ground in its effort to improve respect for women's land rights. In 2022, with support from Both ENDS, the network raised public awareness and mobilised rural women to effectively make their voices heard during the government's formal review of the legislative framework for land governance.
Rural women's political declaration

When Mozambique's Land Policy Review Commission shared its new draft land policy in April, Forum Mulher held meetings with rural and peasant women across the country to discuss the draft and gather women's concerns and demands. From there, Forum Mulher organised a three-day National Conference of Rural Women involving some 50 rural women peasants and activists from around the country to develop a shared strategy in relation to the review process. Women activists and land experts from Brazil, Portugal, Kenya, Argentina and South Africa also joined the retreat to share their own experiences of advocacy to influence land policy and advance gender and women's rights in their countries.
On the last day of the conference, the women hand-delivered their political declaration to the Deputy Minister of Land. Among other things, the declaration highlighted the need for an inclusive legal framework for land that focuses on gender equality and a participatory and democratic consultation process. The declaration insisted that communities and women be central in decision-making process regarding the management and administration of land and that family farming, the work of a large majority of women, be recognised, valued and protected.
Engagement in the review process

Forum Mulher also met directly with the Minister of Land, urging her to address the severe lack of representation of (rural) women in the Land Policy Review Commission, which included nine men and just one woman. As a result of the meeting, the Minister recommended that the Commission involve Forum Mulher and rural women in its working group meetings. Forum Mulher provided necessary financial support (travel, food and accommodation) and training to rural women representatives so that they could fully engage in the meetings, which were held over multiple days. In the Commission's final meetings, a delegation of rural women, activists and lawyers made a final push to ensure consideration of gender issues and women's rights.
Recognition of women in new land policy

As a result of the women's participation in the process, the Commission's final document on the revision of the National Land Policy of Mozambique, submitted to the Council of Ministers, contains articles on the importance of prioritising and valuing rural peasant women in land policy and law. It emphasises the importance of ensuring women's participation in decision-making at community and family level, as well as the need to consult them about possible large-scale land allocations to investors and the government. The policy further recognises that women play a key role in the management of natural resources and biodiversity and that they should be involved in the design of policies and laws.
For Forum Mulher, important work lies ahead, as the government proceeds to the next step of revising the Land Law. Forum Mulher will continue to ensure that rural women in Mozambique are mobilised and supported to engage in the process and effectively ensure that their rights are guaranteed.
Fostering awareness globally and in the Netherlands

For its part, Both ENDS is fostering learning about women's land rights among its network of partners as well as policymakers, building on recent documentation of successful strategies and practices to advance inclusive land governance. Together with Land Portal, in 2022 Both ENDS organised a series of webinars on Inclusive Land Governance, where participants exchanged knowledge and perspectives about inclusion in land governance initiatives, what it means in practice, and how it can be better embedded in the programming and policies. The series, which attracted the participation of hundreds of participants worldwide, included one webinar specifically dedicated to transformative approaches for women's land rights.
In the Dutch context, Both ENDS also worked to inform incoming Ministers and members of parliament about the importance of land rights, particularly in relation to the topics of food and agriculture, and Dutch business and investment abroad. In June, at a Parliamentary roundtable on the topic, Both ENDS urged policymakers to guarantee (women's) land rights in Dutch foreign policy and in all public financial flows, and the importance of adopting legislation, known as mandatory human rights due diligence, to ensure that the private sector does the same. Both ENDS also called on the Dutch government to invest in community-driven, inclusive and environmentally sustainable agriculture around the world.